Video
How Will It Look on Different Devices?
*Google includes Android and often Slack.
How To
How To
Time needed: 1 minute.
How to copy and paste the Flag of Canada Emoji to any device.
Copy the Canadian Flag Emoji

Go to flagemoji.com and press the copy button (above). This works on any device.

Paste the Emoji

Go to your email/iMessage/SMS texting service/document and paste the emoji.
For mobile devices
— double-tap or tap-hold, then paste should appear. Tap it.
For desktop and laptops on Apple devices
— command-P / ⌘-P
For desktop and laptops on Windows devices
— control-p
Codes
Emoji Codes
Flag emojis are unicode symbols, like any other letter or number on your keyboard. This means you can copy and paste the emoji itself into your code, whatever the language (click the button above).
They actually count as two characters: the two-letter country code (the ISO international standard).
Country Code
Unicode
Shortcode
CA
C: U+1F1E8
A: U+1F1E6
:flag_ca:
:ca:
Emoji shortcodes are used on some platforms as a way for users to type in emojis from the keyboard. If you type the emoji shortcode on Github or Slack, the emoji will appear.
*The official name of the emoji is only the country name, not 'Canadian Flag', for example.
Description
Description

The Canadian flag consists of two vertical red bands (hoist and fly side, half width) with a white square between them. The size ratio of the three panels is 1:2:1. In the center of the white square is a red maple leaf with 11 points. Sometimes the flag itself is referred to as the Maple Leaf.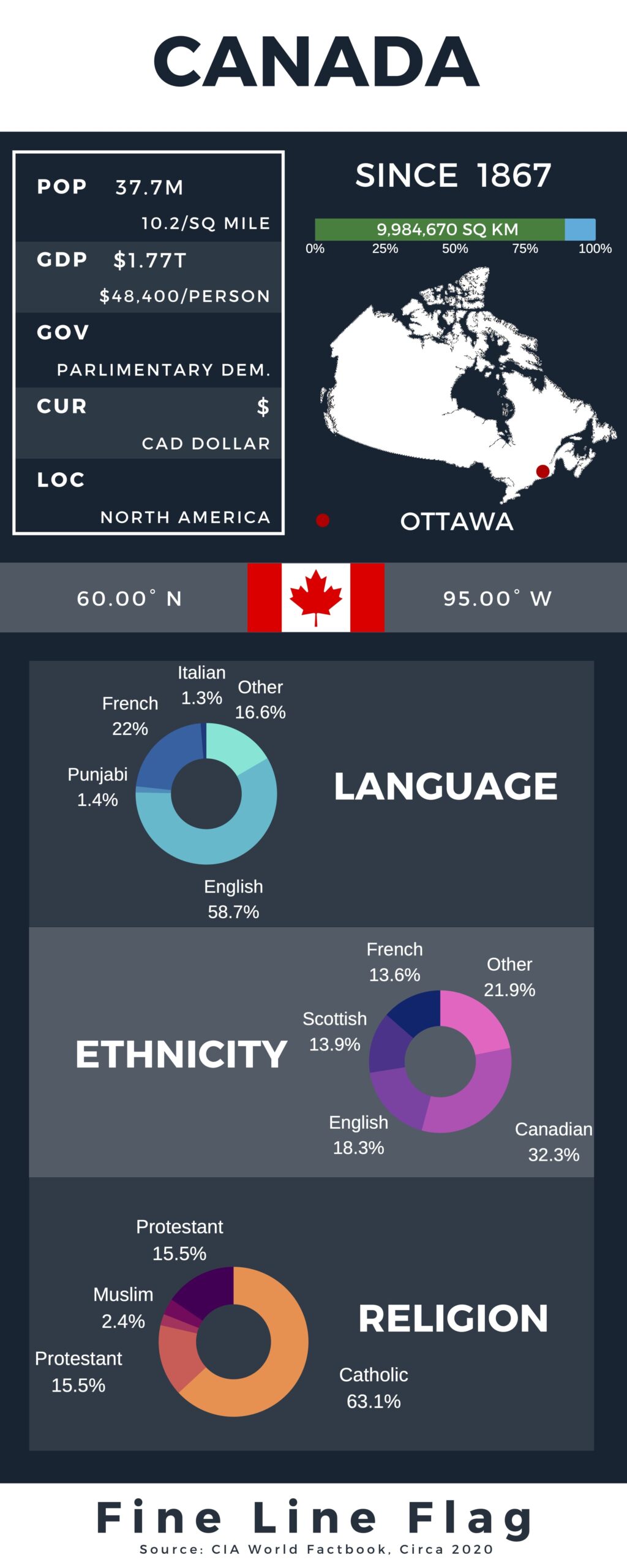 Map
Map
Weather
Anthem
National Anthem
| | |
| --- | --- |
| Title | O Canada |
| Author | Adolphe-Basile Routhier (French), Robert Stanley Weir (English) |
FAQ
FAQs
What is the national day (Independence Day) of Canada?
July 1 (1867) is the national day of independence.
What year was the Canadian flag adopted?
The current Canadian flag was officially adopted February 15, 1965.
Has the Canadian flag ever been changed?
Canada has had many flag's in its history. The maple leaf has been used as an emblem by Canada since the 18th century. By the 1960's there were calls for an official flag which led to the Great Flag Debate of 1964 and produced the current version we know today.
What are the colors of the Canadian flag?
Red and white are the only colors on the Canadian flag. They were proclaimed the national colors by King George V on the recommendation of the Canadian Government in 1921.
Do the number of points on the Maple Leaf have any meaning?
There is no significance to the number of points on the Canadian flag's maple leaf. The current design was determined to be the least blurry after conducting wind tunnel tests.
What is the motto of Canada?
Canada's official motto,A Mari usque ad Mare, appears on its coat of arms, which translates as "From Sea to Sea."
Printable
Printable Flag of Canada