Video
How Will It Look on Different Devices?
Apple
Google
Facebook
WhatsApp
*Google includes Android and often Slack.
How To
How To
Time needed: 1 minute.
How to copy and paste the Italy Flag Emoji to any device.
Copy the Italian Flag Emoji

Go to flagemoji.com and press the copy button (above). This works on any device.

Paste the Emoji

Go to your email/iMessage/SMS texting service/document and paste the emoji.
For mobile devices
— double-tap or tap-hold, then paste should appear. Tap it.
For desktop and laptops on Apple devices
— command-P / ⌘-P
For desktop and laptops on Windows devices
— control-p
Codes
Emoji Codes
Flag emojis are unicode symbols, like any other letter or number on your keyboard. This means you can copy and paste the emoji itself into your code, whatever the language (click the button above).
They actually count as two characters: the two-letter country code (the ISO international standard).
Country Code
Unicode
Shortcode
IT
I: U+1F1EE
T: U+1F1F9
:flag_it:
:it:
Emoji shortcodes are used on some platforms as a way for users to type in emojis from the keyboard. If you type the emoji shortcode on Github or Slack, the emoji will appear.
*The official name of the emoji is only the country name, not 'Italian Flag', for example.
Description
Flag Description
The Italian flag consists of three equal vertical bands of green on the hoist side, white in the middle, and red. The design was inspired by the French flag (brought to Italy by Napoleon in 1797).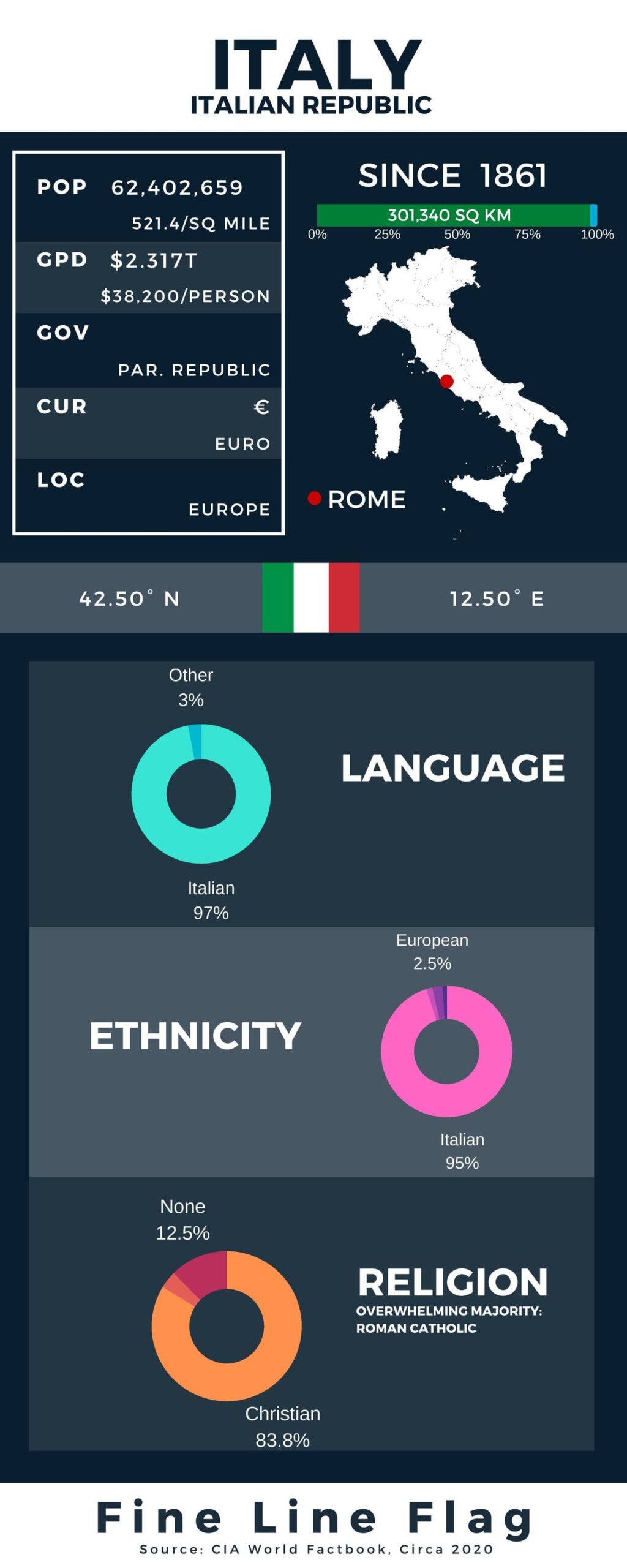 Map
Map
Weather
FAQ
FAQs
What is the national day (Independence Day) of Italy?
Italy celebrates national day, or Republic Day, June 2 (1946).
March 17, 1861 is when Italy gained independence. (At the time the Kingdom of Italy was proclaimed; Italy was not finally unified until 1871.)
What year was the Italian flag adopted?
Bandiera d'Italia or  il Tricolore, was officially adopted on New Years' Day 1948. (Although it was first introduced in 1946.)
What are the colors of the Italian flag?
The flag of Italy has only three colors: green, white, and red. The colors are derived from the green uniform color of the Milanese civic guard, combined with the colors of Milan (red and white).
Does Italy have a Pledge of Allegiance?
No, Italy does not have a pledge of allegiance.
Anthem
National Anthem
| | |
| --- | --- |
| Title | Il Canto degli Italiani (The Song of the Italians) |
| Author | Goffredo Mameli / Michele Novaro |
Printable
Printable Italy Flag