---
Video
How Will It Look on Different Devices?
*Google includes Android and often Slack.
How To
How To
Time needed: 1 minute.
How to copy and paste the Flag of Iceland Emoji to any device.
Copy the Icelandic Flag Emoji

Go to flagemoji.com and press the copy button (above). This works on any device.

Paste the Emoji

Go to your email/iMessage/SMS texting service/document and paste the emoji.
For mobile devices
— double-tap or tap-hold, then paste should appear. Tap it.
For desktop and laptops on Apple devices
— command-P / ⌘-P
For desktop and laptops on Windows devices
— control-p
Codes
Emoji Codes
Flag emojis are unicode symbols, like any other letter or number on your keyboard. This means you can copy and paste the emoji itself into your code, whatever the language (click the button above).
They actually count as two characters: the two-letter country code (the ISO international standard).
Country Code
Unicode
Shortcode
IS
U+1F1EE
U+1F1F8
:flag_is:
:is:
Emoji shortcodes are used on some platforms as a way for users to type in emojis from the keyboard. If you type the emoji shortcode on Github or Slack, the emoji will appear.
*The official name of the emoji is only the country name, not 'Icelandic Flag', for example.
Description
Flag Description
The Icelandic flag is a blue field with a red cross outlined in white. The vertical part of the cross is shifted towards the hoist end similar to the flag of Denmark.
The three colors represent elements that make up the island of Iceland. Red represents volcanic fire. White is used tho symbolize ice fields and glaciers on the island. And blue represents the oceans and sky surrounding island of Iceland.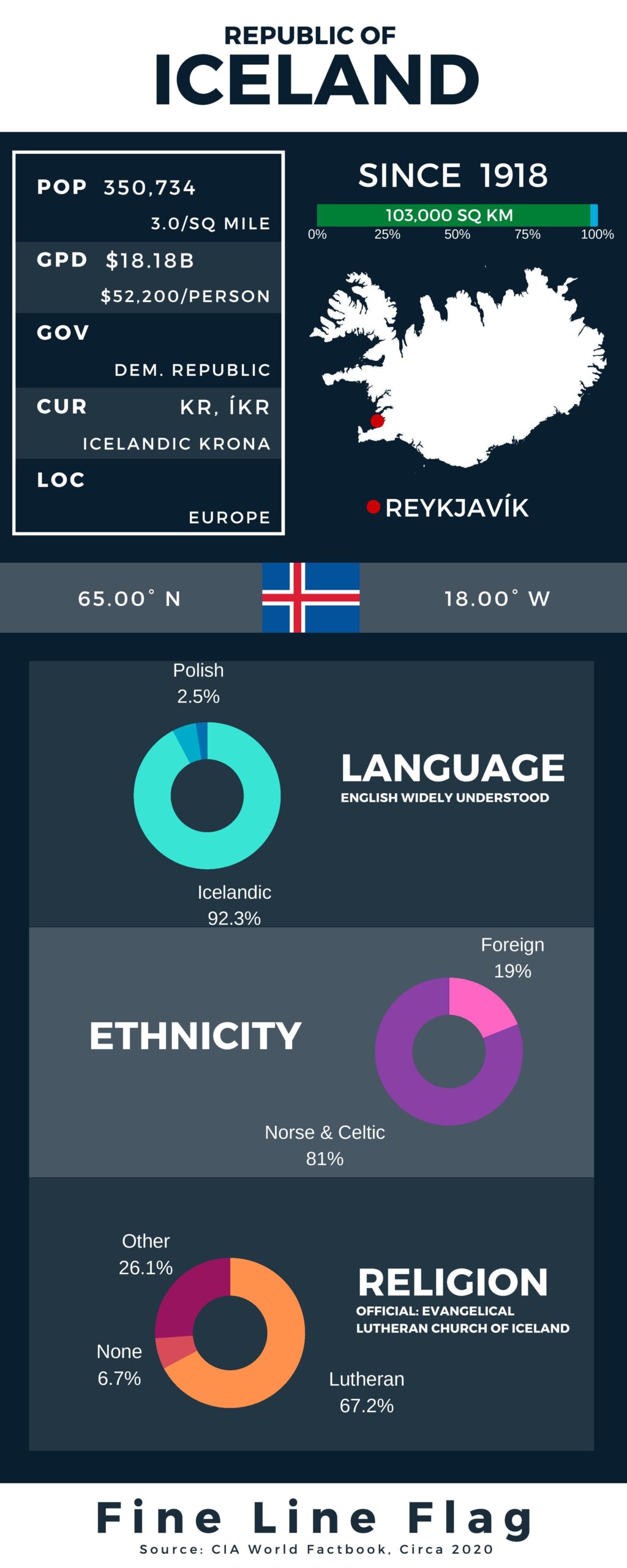 Map
Weather
FAQ
FAQs
What is the national day (Independence Day) of Iceland?
June 17 is the day of independence in Iceland.
What year was the Icelandic flag adopted?
The Icelandic flag was officially adopted June 17, 1944, when Iceland became a republic.
Has the Icelandic flag ever been changed?
Dating back to 1897 the Icelandic flag was a white cross on a deep blue background, but it was never official. In 1915 the current design was introduced and made official June 17, 1944.
What are the colors of the Icelandic flag?
Red and white cross on a a blue field.
Does Iceland have a Pledge of Allegiance?
No, we find no evidence of a pledge of allegiance in Iceland.
Anthem
National Anthem of Iceland
| | |
| --- | --- |
| Title | "Lofsongur" (Song of Praise) |
| Author | Matthias Jochumsson / Sveinbjorn Sveinbjornsson |
Printable
Printable Icelandic Flag