Video
How Will It Look on Different Devices?
Apple
Google
Facebook
WhatsApp
*Google includes Android and often Slack.
How To
How To
Time needed: 1 minute.
How to copy and paste the Flag of Mexico Emoji to any device.
Copy the Mexican Flag Emoji

Go to flagemoji.com and press the copy button (above). This works on any device.

Paste the Emoji

Go to your email/iMessage/SMS texting service/document and paste the emoji.
For mobile devices
— double-tap or tap-hold, then paste should appear. Tap it.
For desktop and laptops on Apple devices
— command-P / ⌘-P
For desktop and laptops on Windows devices
— control-p
Codes
Emoji Codes
Flag emojis are unicode symbols, like any other letter or number on your keyboard. This means you can copy and paste the emoji itself into your code, whatever the language (click the button above).
They actually count as two characters: the two-letter country code (the ISO international standard).
Country Code
Unicode
Shortcode
MX
M: U+1F1F2
X: U+1F1FD
:flag_mx:
:mx:
Emoji shortcodes are used on some platforms as a way for users to type in emojis from the keyboard. If you type the emoji shortcode on Github or Slack, the emoji will appear.
*The official name of the emoji is only the country name, not 'Mexican Flag', for example.
Description
Flag Description
The flag of Mexico consists of three vertical bands in equal width. From the hoist side they are: green, white, and red. In the center is Mexico's coat of arms (an eagle with a snake in its beak perched on a cactus).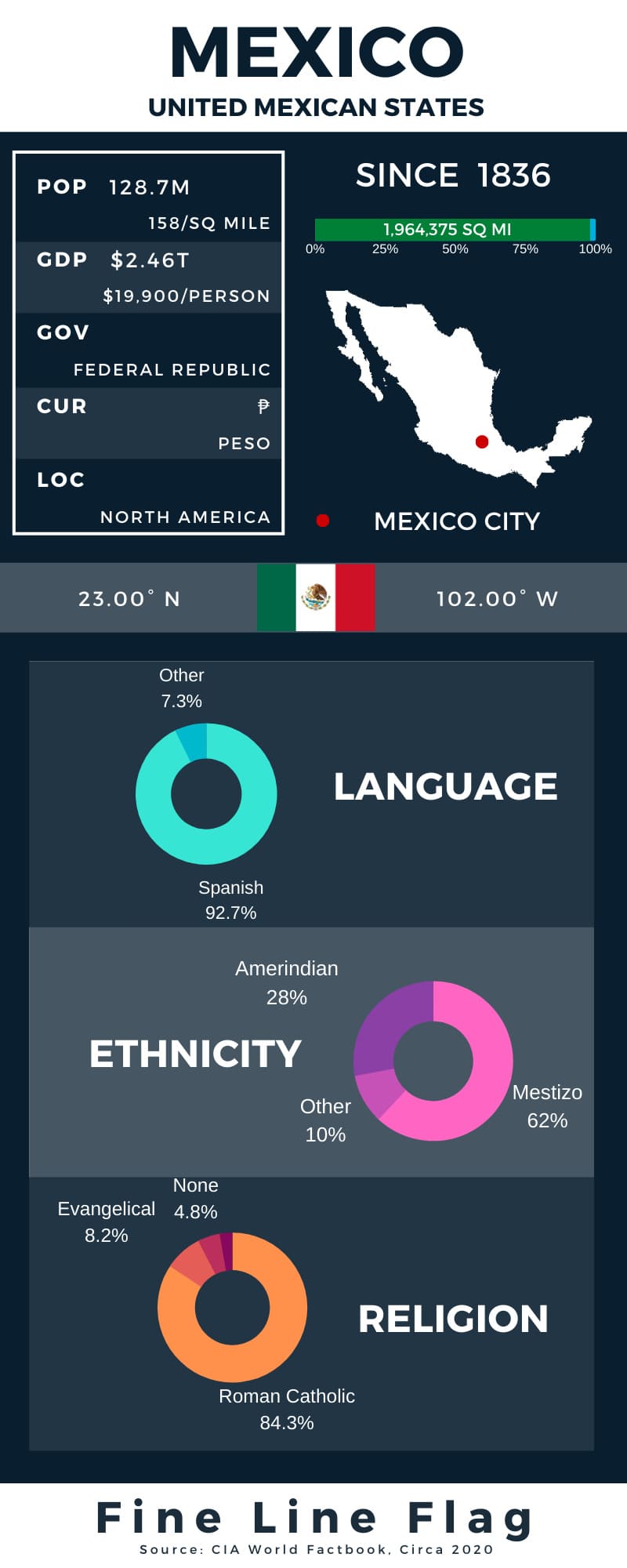 Map
Map
Weather
FAQ
FAQs
What is the national day (Independence Day) of Mexico?
Mexico celebrates Independence Day September 16 (1810) and Día de la Bandera ("Flag Day") is celebrated February 24.
(Cinco de Mayo, or the fifth of May, is a holiday that celebrates the Mexican army's 1862 victory over France at the Battle of Puebla during the Franco-Mexican War.)
What year was the Mexican flag adopted?
The current version of the flag of Mexico was adopted in 1968, but similar versions date back to 1821.
What are the colors of the flag of Mexico?
The flag of Mexico colors are green, white, and red. Over the years the meaning attributed to each color has changed. Green has symbolized hope and independence; white has signified religion, purity, and union, and red has been assigned union, religion, and the blood of heroes. In the center of the flag is the coat of arms of Mexico, which derives from a legend that the wandering Aztec people were to settle at a location where they would see an eagle on a cactus eating a snake. That city is now Mexico City.
Does the Mexico have a Pledge of Allegiance?
Yes.
What is the Mexican Pledge of Allegiance?
Spanish: Bandera de México, Legado de Nuestros Héroes, Símbolo de la Unidad de nuestros Padres y de nuestros Hermanos.
Te prometemos:
Ser siempre fieles a los principios de la libertad y la justicia, que hacen de Nuestra Patria la Nación Independiente, humana y generosa a la que entregamos nuestra existencia.
English translation: Mexican flag legacy from our heroes symbol of the unity of our parents and our brothers.
We promise you: To be always loyal to the principles of freedom and justice that makes this an independent, human and generous nation , to which we dedicate our existence.
Anthem
National Anthem
| | |
| --- | --- |
| Title | "Himno Nacional Mexicano" (National Anthem of Mexico) |
| Author | Francisco Gonzalez Bocanegra / Jaime Nuno Roca |
Printable
Printable Flag of Mexico